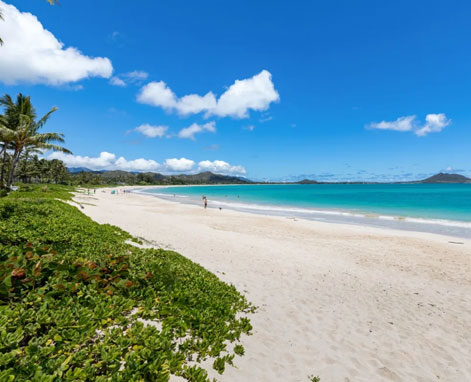 Kailua is a charming beach town located on the windward side of Oahu, Hawaii. This vibrant community boasts a relaxed atmosphere and a strong sense of local pride. With its stunning beaches, abundant natural beauty, and friendly locals, Kailua is a wonderful place to call home.
Kailua's white sand beaches are some of the most beautiful in the world, attracting visitors from around the globe. Kailua Beach is a local favorite and has been voted one of the top beaches in the United States. It offers miles of pristine coastline, crystal-clear water, and breathtaking views of the surrounding mountains.
Beyond the beaches, Kailua offers a wide range of outdoor activities. Residents can hike to the top of Maunawili Falls for a refreshing swim, kayak in the nearby Kawainui Marsh, or explore the scenic Lanikai Pillbox Hike. The area is also home to a variety of parks, including Kalama Beach Park, which features a playground, basketball courts, and picnic areas.
Kailua's charming downtown area is a hub of local activity, with a variety of shops, restaurants, and cafes. Kailua's farmers' market is a local institution, offering fresh produce, crafts, and artisanal food products. The community also hosts several annual events, such as the Kailua Town Party and the Kailua 4th of July Parade, which bring residents together for fun and festivities.
Overall, Kailua is a neighborhood that combines natural beauty with small-town charm. Whether you're looking for a relaxing day at the beach, a challenging hike in the mountains, or a lively community event, Kailua offers something for everyone.

Sorry we are experiencing system issues. Please try again.